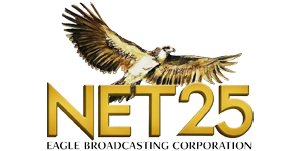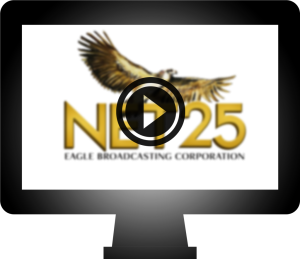 Description
• NET 25 is the flagship TV station of Eagle Broadcasting Corporation. Its studios, transmitters and broadcast facilities are located at EBC Broadcast Center, 25 Central Ave., Diliman, Quezon City, 1101 Philippines.
• NET 25 reaches TV audiences on the Eastern and Pacific coasts, United States, Alaska and Hawaii and the whole of Asia including Singapore, Japan, Hong Kong, Macau (in Portuguese), Taiwan, China as well as Australia, New Zealand, the UK, Turkey, France, Spain, Italy, Greece, Germany, Monaco, Switzerland, Iceland, Denmark, Norway, Finland, Sweden and the entire continent of Europe. NET 25 also reaches audiences in selective areas in the Middle East.
• On January 2, 2014, NET25 was launched in live video streaming over Eagle News PH (www.eaglenews.ph), EBC's official news website. It can now be watched over 90 percent of the world via internet.
Programming
In its efforts to bring a unique TV viewing experience, NET25 focuses on informative and educational shows. Hence, the tag line Feed Your Mind. It aims to provide the following program genre to its market: news and information, modern living, arts and culture, modern entertainment and information technology.
Vision and Mission
The network's vision is to become the premiere values-oriented broadcast communications network. Its mission is to inform, entertain and educate the public by providing high quality values-centered programs that enrich life.
The station is dedicated to the growth and revolution of the new media era. It is created as a community and a resource – a center of values where its best practices can be explored and where vision and innovation are shared to build new opportunities that enrich life.
History
The station started its broadcast operations last July 27, 1999 and was officially launched in a multimedia exhibit dubbed Destination: PLANET 25 last April 23, 2000.
With its initial partnership with TechTV, NET25 was branded as the country's first and only e-channel, the only television station that is devoted to providing information and entertainment on computing, Internet and information technology. With its current programs like Convergence, Tomorrow Today, NET25 remains to be the country's premier TV network that is dedicated to the developments in the world of IT. Its station-produced program Convergence is the consistent No. 1 IT show in the Philippines.